Heaven Tonight ($5 Special)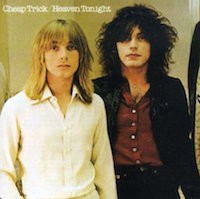 Remastered with 2 bonus tracks.
"Heaven Tonight, like In Color, was produced by Tom Werman, but the difference between the two records is substantial. Where In Color often sounded emasculated, Heaven Tonight regains the powerful, arena-ready punch of Cheap Trick, but crosses it with a clever radio-friendly production that relies both on synthesizers and studio effects. Even with the fairly slick production, Cheap Trick sound ferocious throughout the album, slamming heavy metal, power pop, and hard rock together in a humongous sound. "Surrender," the definitive Cheap Trick song, opens the album with a tale about a kid whose parents are hipper than himself, and the remainder of the record is a roller coaster ride, peaking with the sneering "Auf Wiedersehen," the dreamily psychedelic title track, the roaring rocker "On Top of the World," the high-stepping, tongue-in-cheek "How Are You," and the pulverizing cover of the Move's "California Man." Heaven Tonight is the culmination of the group's dizzying early career, summing up the strengths of their first two albums, their live show, and their talent for inverting pop conventions. They were never quite as consistently thrilling on record ever again. " - Allmusic
There are no review yet. Be the first!